Commercial Air Conditioning & Heating Services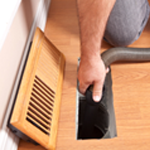 Operations and Maintenance
We provide full-service maintenance, with dedicated staff to ensure on-going system maintenance and quick repair.
Installation
We provide full and partial HVAC system replacement, as well as brand new ground-up installations. The quality procedures we have implemented place us well ahead of our competition for maximizing your business comfort and energy efficiency.
Systems Design and Project Management
We specialize in retrofitting older buildings with new heating and cooling systems. We'll also take on the installation of systems in new buildings from the ground up.
Advanced Technology and Efficiency
You can get 30% energy efficiency savings in offices up to 20,000 feet with new HVAC systems. Ask us about the latest technology for your particular needs.
Preventative Maintenance
Innovative Air Solutions is pleased to offer a Preventative Maintenance Program that keeps our commercial client's HVAC systems running at peak performance, saving downtime and money. The preventative maintenance includes the following:
Multi-Point Inspection
Preferential Service
Parts Discounts
Call us today for a free quote on a preventative maintenance program designed especially for you!